Tour
Tehran-Isfahan-Shiraz-Bushehr-Sushtar tour package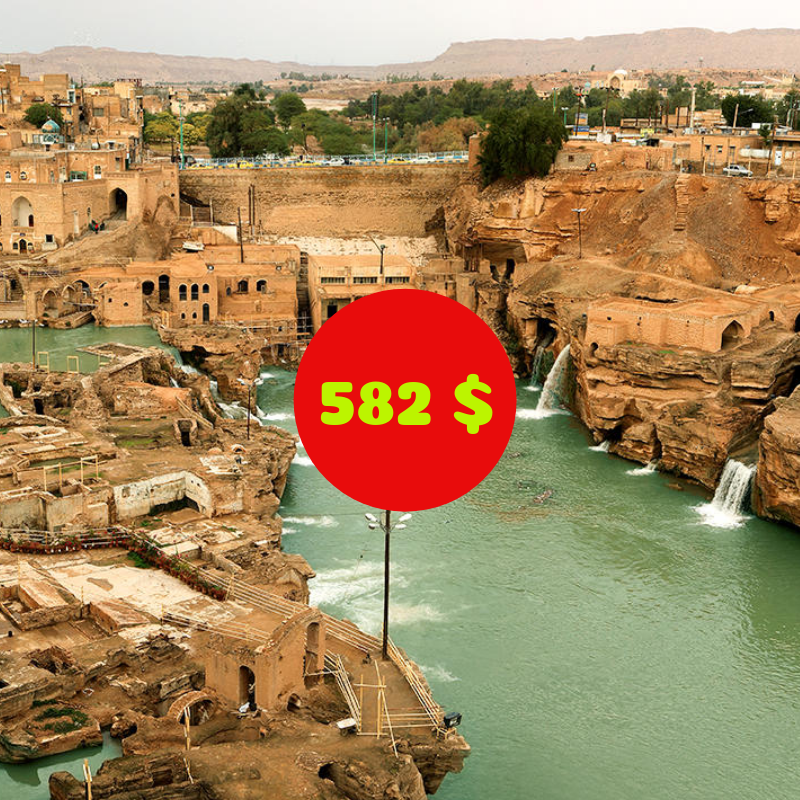 Tehran-Isfahan-Shiraz-Bushehr-Shushtar tour package
---
Tehran-Isfahan-Shiraz-Bushehr-Shushtar tour package is one your options to visit our cultural cities like : Tehran , Isfahan , Shiraz, Bushehr and the beautiful Shushtar!
Tehran is going to be your first city to explore on this package and Since Tehran is not as old as other major tourist destinations in Iran, most of its historical places belong to Qajar and Pahlavi era at most. Tehran's attractions are mostly historical buildings, modern buildings, parks and entertainment centers, recreational activities and sports in the mountainous north and museums.
---
Isfahan is a city in central Iran, known for its Persian architecture. In the huge Naqsh-e Jahan Square is the 17th-century Imam (Shah) Mosque, whose dome and minarets are covered with mosaic tiles and calligraphy. Ali Qapu Palace, built for Shah Abbas and completed in the late 16th century, has a music room and a verandah overlooking the square's fountains. Sheikh Lotfollah Mosque is known for its intricate tiling.
---
The next city would be our great
Shiraz
. It should be said that Shiraz is one of the most beautiful cities of Iran that many titles are assigned to it, for example "city of lovers" and it is due to the matter that Shiraz is the hometown of great poets like Hafez and Saadi. The city also has many historical and natural attractions that you will become interested in them.
---
Bushehr Province is one of the 31 provinces of Iran . It is in the south of the country , with a long coastline onto the Persian Gulf . Its center is Bandar-e-Bushehr , the provincial capital . The province has nine counties : Asaluyeh , Bushehr , Dashtestan , Dashti , Dayyer , Deylam , Jam , Kangan , Ganaveh and Tangestan . In 2011 , the province had a population of approximately 1 million people .
---
One of the oldest cities in Iran, Shushtar in Khuzestan Province borders Masjed Suleiman in the east, Dezful and Shush in the west, Ahvaz in the south and the Bakhtiari Mountains of the Zagros Mountain range in the north.  Like other cities in Khuzestan Province, Shushtar experiences extremely hot summers but has mild, pleasant winters.
---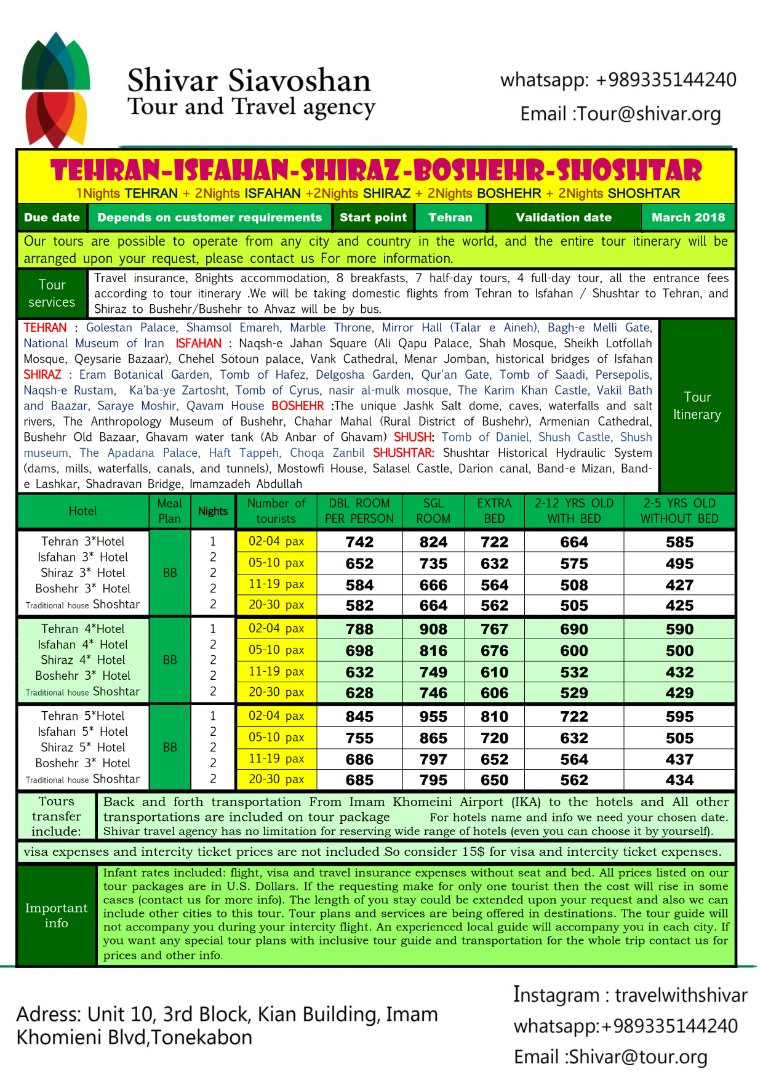 ---
Shivar Siavoshan Tour and Travel Agency Guaranteed lowest price !! For more information contact us on whatsapp: +989335144240
Follow us on Instagram : click here