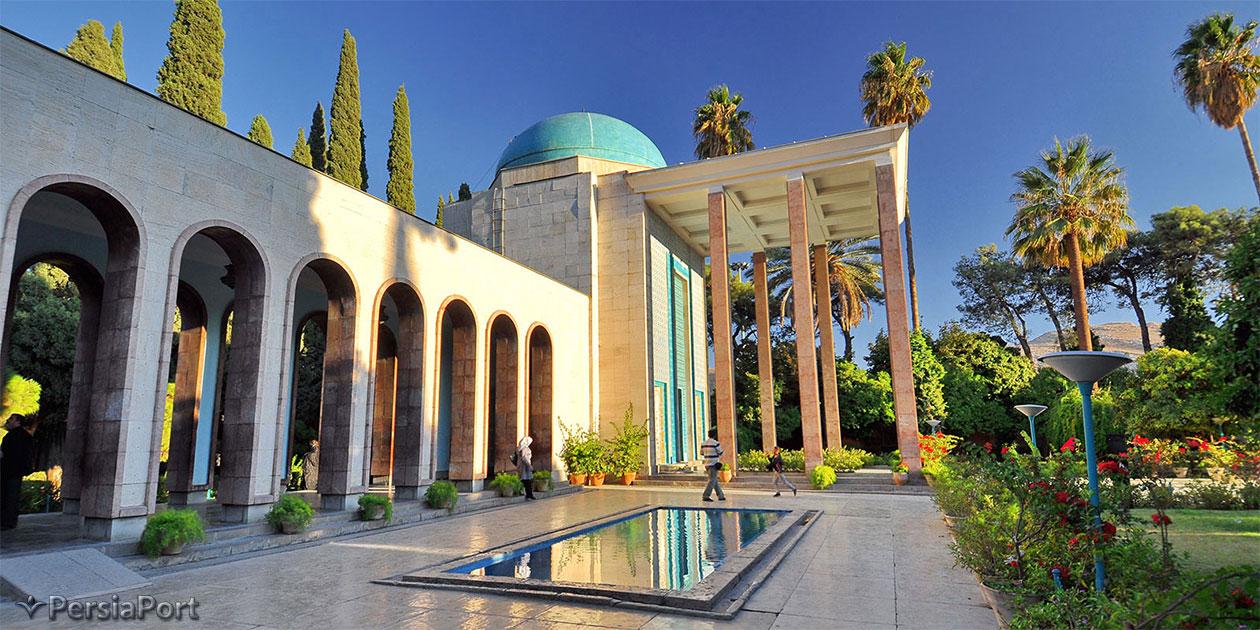 [vc_row][vc_column][vc_column_text]
[/vc_column_text][/vc_column][/vc_row][vc_row][vc_column][vc_column_text]
Shiraz Tourist Attractions
Shiraz Historical Places
Vakil Bath, Shiraz (Shiraz Tourist Attractions)        
It is located near the Vakil Mosque. Due to change in the conditions of public baths, it has lost its original shape. The Vakil Bath is  monument of the Zand period
Afif Abad Bath, Shiraz  (Shiraz Tourist Attractions)
It is situated to the north of the Afif Abad Garden, museum or edifice. The interior walls have been ornamented with characteristic plaster works and painting of men and women of the Qajar period.
Baq-e-Neshat Bath, Shiraz  (Shiraz Tourist Attractions)
This bath located to the north of Baq-e-Neshat Garden, is composed of two rooms each with a small dome. One of the domes is erected on pillars with intricate spirals which opens out to the garden. The paintings on the walls are quite refined and delicate
Persepolis (Takht-e-Jamshid), Marvdasht     
On top of the rocky mountain of Rahmat in the plain of Marvdasht, the ruins of Takht-e-Jamshid palace are pre-eminent. Construction of these palaces started at the time of Darius I (521 BC) and was not completed in less than a period of 150 years. Takht-e-Jamshid is registered as a World Heritage Site by UNESCO.
Sassanide Palace, Sarvestan, Shiraz (Shiraz Tourist Attractions)
Located 9 km southwest of Sarvestan, it is a large monument made of stone and gypsum. This monument dates back to the Sassanian period and to the time of Bahram-Gour (420-438 AD). Mehrnevsi, his well-known minister ordered the construction of this palace. Since 1956, major renovations took place. This monument has been registered on the list of National Monuments of Iran.
Baq-e-Nazar Pavilion (Kolah Farangi), Shiraz  (Shiraz Tourist Attractions)
A pavilion that is located in Baq Nazar, a beautiful garden with tall and ancient trees, dates back to the Karim Khan period. There is a charming pavilion built by Karim Khan, known as Kolah Farangi. The ceramic work on the exterior of this building is quite unique. There are paintings by well known artists of the Zand period on the walls.
Baq-e-Eilkhani Edifice, Shiraz   (Shiraz Tourist Attractions)
It dates back to the time of Mohammad Qoli-Khan, a leader of the Qashqei tribe. The garden in which it is located (about 6,000 sq.m.) dates back to the Qajar period.
Abunasr Palace ( Takht-e-Abunasr ), Shiraz   (Shiraz Tourist Attractions)
Six kilometers east of Shiraz, on top of a hill, ia a relic of an edifice made of brick and stone. As a result of archeological excavations, these remains have been estimated to date back to the Parthian period but it was also used in the Sassanian period.
Sassanide Palace, Sarvestan, Shiraz (Shiraz Tourist Attractions)
Located 9 km southwest of Sarvestan, it is a large monument made of stone and gypsum. This monument dates back to the Sassanian period and to the time of Bahram-Gour (420-438 AD). Mehrnevsi, his well-known minister ordered the construction of this palace. Since 1956, major renovations took place. This monument has been registered on the list of National Monuments of Iran.
.period but it was also used in the Sassanian period.
Vakil Bazaar, Shiraz  (Shiraz Tourist Attractions)
This bazaar is located in Darb-e-Shahzadeh (Gate of Prince), near the Vakil Mosque. It has five entrances with two rows of shops (Hojreh), situated north-south and east-west direction and perpendicular to each other. It displays a beautiful architecture with wide corridors and high ceilings along with openings which allow air circulation and penetration of light.
Moshir Arcade, Shiraz  (Shiraz Tourist Attractions)
Golshan or Moshir Caravansary is located near Vakil Bazaar, which is relic of Mirza Abol Hassan Moshir-ol-Molk. This arcade was repaired in 1970. Its rooms have been used as an exhibition hall for the demonstration of local handicrafts of Fars, thus called "Sarayeh Honar" (Art House).
Khan School, Shiraz    (Shiraz Tourist Attractions)
This historical monument is situated in Shiraz city. This building was constructed by Allah Verdi Khan and his son in the Shah Abbas period. This place, which used to be a theological school, has been restored several times.
Aqa Baba Khan School, Shiraz  (Shiraz Tourist Attractions)
Dating back to the Qajar period, it is near the Vakil Bazaar and Jame' Mosque. The same belongs to the Karim Khan Zand period. The construction of building was begun by haji Mohammad Hossein Khan and finally in 1862, the construction was completed by Aqa Baba Khan Hossein
Karim Khani Citadel, Shiraz  (Shiraz Tourist Attractions)
It used to be the main residential palace of Karim Khan-e-Zand and his dynasty in Shiraz. Surrounded by high brick walls, there are four towers, each at a corner of the complex. This place was used as a prison for thirty five years until 1971. Although damaged as a result of misuse, renovations are taking place. This monument is a good representative of the architectural style which was typical of the
Zand period. Sibveyh Tomb, Shiraz (Shiraz Tourist Attractions)
Abu Bashar Amrobne Osman known as Sibveyh was one of the most famous scientist of the time. He is the author of the book "Alketab". His tomb is located in Sang-e-Siyah to the north of Kazeroon Gate of Shiraz. Recently an interesting structure has been constructed on his tomb.
Sheikh Kabir (Ebne Hanif) Tomb, Shiraz (Shiraz Tourist Attractions)
Abu Abdollah Sheikh Mohammad Ben Hanif, known as Sheikh Kabir was one of the greatest gnostics and Sheikhs of Shiraz. At present the tomb stone of the Sheikh is located behind the Vakil bazaar, in a room furnished by tiles. In the Atabakan period, Atabak Zangi Ben Modood, repaired this tomb and later on it was renewed again.
Sheikh Roozbehan Tomb, Shiraz (Shiraz Tourist Attractions)
This building which is a tomb of one of the known Iranian gnostics, is located in the east Shiraz. At present only a small part of this tomb has remained and the tombs of the Sheikh along with those of his sons and grand children are located within the area. In 1967 a new structure was constructed on these graves
Shah Shoja' Mozafari Tomb, Shiraz (Shiraz Tourist Attractions)
In Takht-e-Zarabi and to the west of Tekiyeh-ye-Haft Tanan, the tomb of the most reputed monarch of the Mozafar Dynasty,i.e., Abolfovares Shah Shoja' son of Amir Mobarezedin exists. In 1971 a memorial was constructed on his grave which is of special value from architectural and historical point of view.
Sa'di Tomb, Shiraz  (Shiraz Tourist Attractions)
Sa'di, a keen traveler and famous Gnostic, was a known poet of the 7th century AH. he was born in Shiraz and passed away between the years 695-691 AH. In 1942, the present building was constructed by the Association for National Arts and the tomb of Sa'di was placed in an octagonal mausoleum with high dome and interesting tile works.
Koorush Kabir (Cyrus) Shrine, Shiraz-Esfahan Rd. (Shiraz Tourist Attractions)
On the Shiraz – Esfahan Road and in the Morqab plains, this rectangular monument is built on a six-storey platform. On the top floor, which is 3 m. high, there are two tombs, one belonging to Koorush, and the other to his wife Kassandan mother of Kamboujieh. These two graves are interconnected by a meter long and 35 cm. wide corridor.
Hafiz Tomb, Shiraz (Shiraz Tourist Attractions)
Hafiz is one of the most famous Gnostics and poets of Iran, who was born in Shiraz in 726 AH and passed away 65 years later. The tomb of Hafiz also known as Hafizieh is located north of Shiraz and comprises of two gardens. Many people still come to pay homage to this master of poetry. The mausoleum itself is located in a lovely garden, and has an atmosphere of peace and calm that is quite unique.
 Khajoo-e-Kermani Tomb, Shiraz (Shiraz Tourist Attractions)
The tomb of Kamal-edin Abu Ata known as Khajoo (689-756 AH.) is located in the Allah Akbar Gorge close to the Qoran Gate of Shiraz. It is the tomb of a famous Iranian poet and gnostic. This memorial was completely renovated in recent years
Teimoorian Archaeological Hill, Kooshk Village, Shiraz  (Shiraz Tourist Attractions)
This hill is located 1 km. west of the Kooshak Village in Arsanjan. Since 2500 BC up to the Islamic period, dead bodies used to be buried in this hill. In some of these graves many interesting objects such as ceramic dishes (red or gray in color) with black patterns as well as jewelry (i.e. rings, necklaces, pins) and animal shaped ceramic statues have been found
Estakhr Ancient City (Takht-e-Tavoos), Shiraz  (Shiraz Tourist Attractions)
Located 7 km. from the remains of Persepolis (Takht-e-Jamshid), the ruins of the city of Estakhr known as Takht-e-Tavoos exists. It includes a stony gate, columns and walls dating back to the Achaemenian period. Many archaeological objects have been found at this site, which belong to the Sassanian, Parthian and Islamic eras.
[/vc_column_text][/vc_column][/vc_row][vc_row][vc_column][vc_gmaps link="#E-8_JTNDaWZyYW1lJTIwc3JjJTNEJTIyaHR0cHMlM0ElMkYlMkZ3d3cuZ29vZ2xlLmNvbSUyRm1hcHMlMkZlbWJlZCUzRnBiJTNEJTIxMW0xOCUyMTFtMTIlMjExbTMlMjExZDM1NTgxMTMuMjg0NTM3MzY4NSUyMTJkNTAuODU1OTI2MTg0Nzg2NjUlMjEzZDI5LjQzNjk3ODg0MTU3MTUyMyUyMTJtMyUyMTFmMCUyMTJmMCUyMTNmMCUyMTNtMiUyMTFpMTAyNCUyMTJpNzY4JTIxNGYxMy4xJTIxM20zJTIxMW0yJTIxMXMweDNmYWQxYWIxMmM0NDM0OWQlMjUzQTB4NGExMjY5NDhhZjc1YmY4NCUyMTJzRmFycyUyMTVlMCUyMTNtMiUyMTFzZW4lMjEyc2lyJTIxNHYxNDQ5NDI3NDAyNjU4JTIyJTIwd2lkdGglM0QlMjI2MDAlMjIlMjBoZWlnaHQlM0QlMjI0NTAlMjIlMjBmcmFtZWJvcmRlciUzRCUyMjAlMjIlMjBzdHlsZSUzRCUyMmJvcmRlciUzQTAlMjIlMjBhbGxvd2Z1bGxzY3JlZW4lM0UlM0MlMkZpZnJhbWUlM0U=" title="Fars province in Google Map"][/vc_column][/vc_row]