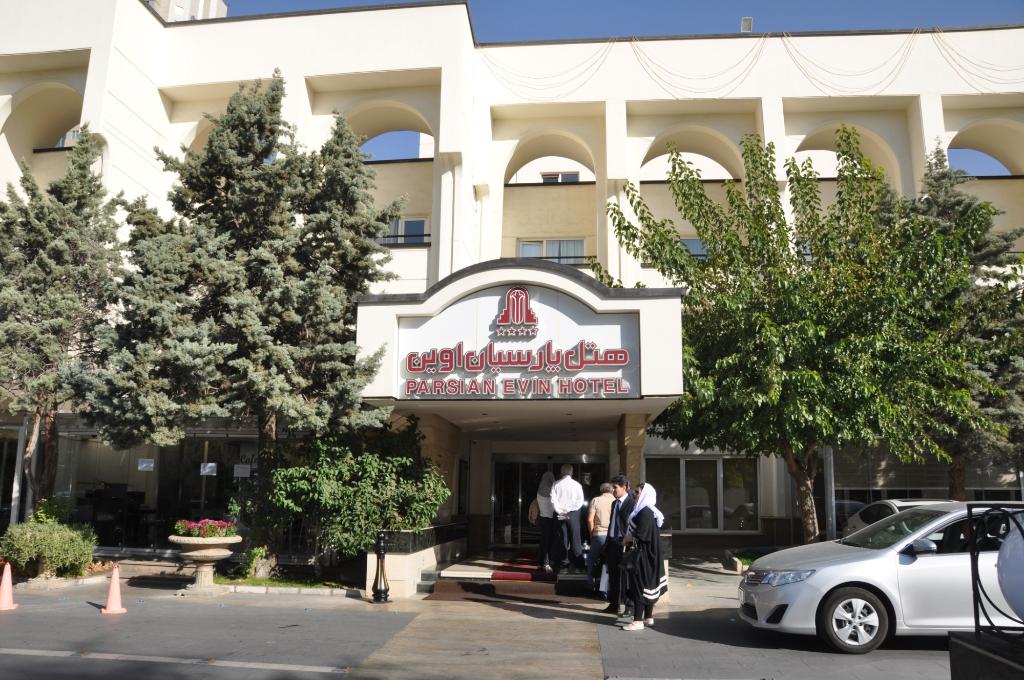 [vc_row][vc_column][vc_column_text]Parsian Evin Hotel Tehran
Parsian Evin Hotel Tehran Location:
Located in North of Tehran with great weather and easy access
to main highways. Hotel is minutes away from Tehran`s international fair,
it`s 20 minutes to the city center,15 minutes to Tajrish shopping center and
45 minutes to the International Airport (IKA)
Accommodation in Parsian Evin Hotel Tehran

Double room with one King or two Twin beds with large working
desk , high speed internet access, safe box, coffee maker, digital AC ,
balcony, minibar and LCD TV Elegantly decorated bedrooms that can
accommodate a great variety of tastes . Also hotel is fully equipped with
rooms facilities for people with disabilities, enabling them to access
to different part of the hotel.
Ameneties in Parsian Evin Hotel Tehran
– Safe box
– Electronic Control panel beside bed
– Digital AC
– Minibar
– LCD TV with satellite channels
– Hair dryer
– Electronic key lock
– jacuzzi ( royal suite )
– Dry sauna ( royal suite )
– Balcony
– Facilities for the disabled
Other Services in Parsian Evin Hotel Tehran :
– 24 hour business center
– 24 hour coffee shop
– 24 hour taxi service
– 24 hour room service
– Laundry
– Pick up and drop off service
– Outdoor and indoor parking lot
– Outdoor swiming pool
– Gift shop
– Conference hall
– High speed internet (ADSL & Wi-Fi)
Outdoor Swimming pool in Parsian Evin Hotel Tehran

With beautiful and tall trees all around and great view by the hotel, it`s great for taking your time and
forget about all your businesses and works. It`s one of the most beautiful swimming pools in Tehran.
Koohe Noor Complex in Parsian Evin Hotel Tehran

Two function rooms with luxury design and beautiful decoration. A great variety of international and
local cuisines. Designed to hold different gatherings such as wedding, ceremonies and seminars in
a very good location  and the capacity of serving up to 800 guests.
Also a two story parking, easy to access with the capacity of 100 cars.
Karoon Saloon in Parsian Evin Hotel Tehran

We offer high standard facilities to hold seminars and events, in a modern and
luxurious environment,audio and video equipments, and a capacity for 170 people.
Parse Restaurant in Parsian Evin Hotel Tehran

Beautifully designed in warm colors and nice decoration with best iranian cuisine,
its great for your private ceremonies, personal meetings and family dining.
Pardis Restaurant in Parsian Evin Hotel Tehran

Pardis is Designed in a warm and classic atmosphere to be in-line with the way guests love to live their lives,
from thoughtful decor to flavorful and international cuisine that creates the ideal dining experience.
Our imaginative and creative restaurants and lounges feature talented chefs, acclaimed by everyone who
appreciates a warm atmosphere and inspired food
Parsian Evin Hotel Tehran in Trip Advisor : Click
[/vc_column_text][/vc_column][/vc_row][vc_row][vc_column width="1/1″][vc_gmaps title="Parsian Evin Hotel Tehran in Google Map" link="#E-8_JTNDaWZyYW1lJTIwc3JjJTNEJTIyaHR0cHMlM0ElMkYlMkZ3d3cuZ29vZ2xlLmNvbSUyRm1hcHMlMkZlbWJlZCUzRnBiJTNEJTIxMW0xOCUyMTFtMTIlMjExbTMlMjExZDMyMzYuNDQyOTc5ODA1NTAzJTIxMmQ1MS4zODg0MjQ0MTQ0MjM3MiUyMTNkMzUuNzg5MDU2ODgwMTY5MjQlMjEybTMlMjExZjAlMjEyZjAlMjEzZjAlMjEzbTIlMjExaTEwMjQlMjEyaTc2OCUyMTRmMTMuMSUyMTNtMyUyMTFtMiUyMTFzMHgzZjhlMDYzMzE1MDFkODQzJTI1M0EweGNlZWU2MDVhMjEyMDY1YWUlMjEyc1BhcnNpYW4lMkJFdmluJTJCSG90ZWwlMjE1ZTAlMjEzbTIlMjExc2VuJTIxMnNpciUyMTR2MTQ0OTQ0MTcyOTM2NSUyMiUyMHdpZHRoJTNEJTIyNjAwJTIyJTIwaGVpZ2h0JTNEJTIyNDUwJTIyJTIwZnJhbWVib3JkZXIlM0QlMjIwJTIyJTIwc3R5bGUlM0QlMjJib3JkZXIlM0EwJTIyJTIwYWxsb3dmdWxsc2NyZWVuJTNFJTNDJTJGaWZyYW1lJTNF"][/vc_column][/vc_row][vc_row][vc_column][vc_column_text]
[/vc_column_text][/vc_column][/vc_row]