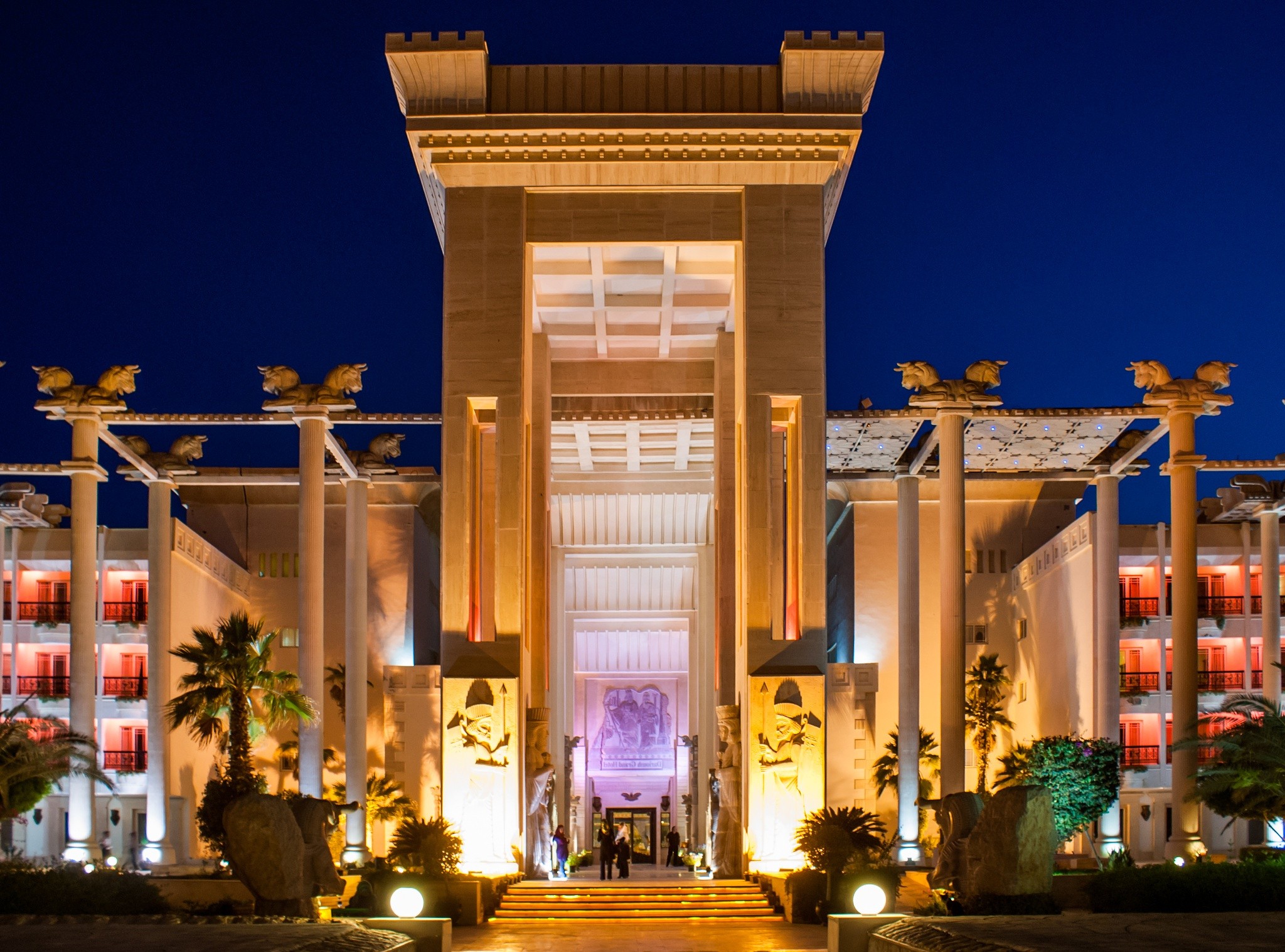 [vc_row][vc_column][vc_column_text]
Dariush Grand Hotel in Kish Island, IRAN :
Five Star Hotel (
*****
)
The Dariush Grand Hotel is a 168-room, $125 million, five star hotel located on the eastern part of Kish Island in the Persian Gulf
The Dariush Grand Hotel in perisan Language : هتل بزرگ داریوش
Hotel History :
Dariush Grand Hotel was built to look like Persepolis, a symbol of the ancient Persian (Iranian) civilization and the Persian Empire. The hotel was designed and developed by Iranian entrepreneur Hossein Sabet, who also owns and manages several tourist attractions and hotels in the Canary Islands. The hotel was completed in 2003 and is owned by a number of companies
Hotel Management :
On May 7, 2004 it was announced that the Rezidor Hotel Group would manage the Dariush Grand Hotel for ten years, with the intention of rebranding the hotel as a Radisson SAS property in the future.[1] In 2006, Rezidor and the owner of the hotel agreed to cancel the contract.The General Manager at the time was Sascha Kaiser, a German national. It is currently unknown what company currently runs the hotel.
---
 Hotel General information :
---
 Type  : Hotel, Restaurant
Location :  Kish Island, IRAN
Construction Started :  1994
Completed :  1999
Opening :  2005
Cost :  125 Milion $
Qwner :  Sabet Hotels Group
---
Hotel Technical details :
---
 Floor Count  :  4
Floor Area :  20,000 m2(220,000 sq ft)
Lifts/Elevators :  4
---
Hotel Design and construction :
---
Architect :  Hossein Sabet 

Developer : Hossein Sabet
---
[/vc_column_text][/vc_column][/vc_row][vc_row][vc_column width="1/1″][vc_gmaps title="Dariush Grand Hotel In Google Map" link="#E-8_JTNDaWZyYW1lJTIwc3JjJTNEJTIyaHR0cHMlM0ElMkYlMkZ3d3cuZ29vZ2xlLmNvbSUyRm1hcHMlMkZlbWJlZCUzRnBiJTNEJTIxMW0xNCUyMTFtOCUyMTFtMyUyMTFkMTQyNzguMDQ0NDM3NTU5Nzc2JTIxMmQ1NC4wMjY5MzE5JTIxM2QyNi41MzU4NDM2JTIxM20yJTIxMWkxMDI0JTIxMmk3NjglMjE0ZjEzLjElMjEzbTMlMjExbTIlMjExczB4MCUyNTNBMHgzNDExMzMxMThjM2ZjYzklMjEyc0Rhcml1c2glMkJHcmFuZCUyQkhvdGVsJTIxNWUwJTIxM20yJTIxMXNlbiUyMTJzaXIlMjE0djE0NDk3NTI2Nzc0NjklMjIlMjB3aWR0aCUzRCUyMjYwMCUyMiUyMGhlaWdodCUzRCUyMjQ1MCUyMiUyMGZyYW1lYm9yZGVyJTNEJTIyMCUyMiUyMHN0eWxlJTNEJTIyYm9yZGVyJTNBMCUyMiUyMGFsbG93ZnVsbHNjcmVlbiUzRSUzQyUyRmlmcmFtZSUzRQ=="][/vc_column][/vc_row]