Saraye Ameriha Boutique Hotel in Kashan 5*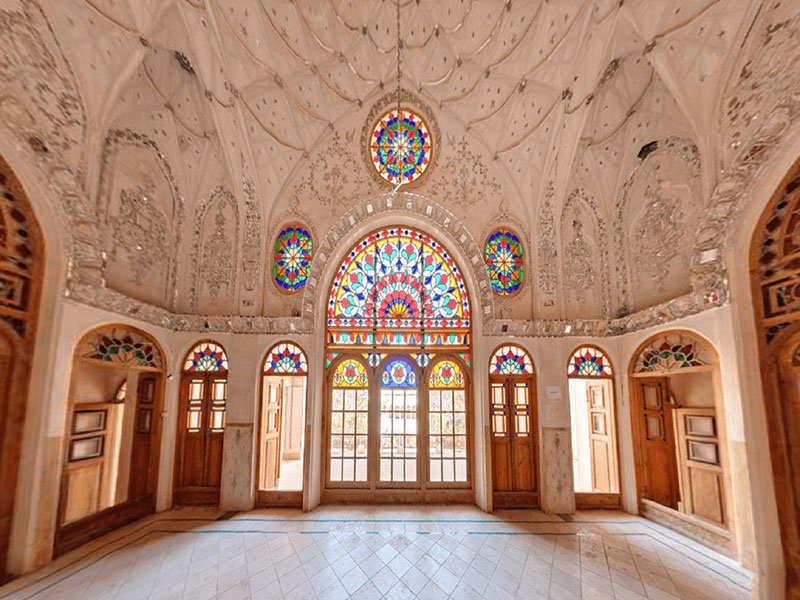 Saraye Ameriha Traditional Hotel in Kashan
Saraye Ameriha Boutique Hotel in Kashan 5*
---
Saraye Ameriha Boutique Hotel in Kashan 5*Historical local house of Kashan are famous and among them Saraye Ameriha is the most outstanding mansion with seven nested yards and the longest windward of the city. In the past, here was the house of the greatest Ameriha family who were tollman of Silk Road for years. This glorious building was destroyed in the earthquake of 1157 RIC and reconstructed, so the current structure of building is from Qajar period when Ebrahim Khalil khan Ameri was the Kashan's squire lived here, however after him this mansion get forgotten and damaged, nowadays Ezam invest company repaired it's structure and changed to a beautiful and marvelous accommodation which will host you with Iranian style
This is the jewel in the crown of Kashan's accommodation. Set within the most impressive of Kashan's restored mansions, guests dine under a twinkling dome of mirrors, sip tea to the sound of splashing fountains, soak in a tub the size of a fish pond and wake up to coloured light dancing on luxury linen. A range of rooms are available.
Recently restored to its former glory, this 18th-century complex was originally built by Ebrahim Khalil Ameri, Kashan's governor and one of the country's wealthiest men. His story is an interesting one. Ameri made his money supplying the shah with arms and providing security along the trade route between Tehran and Kerman. When completed, his was the largest home in Persia, encompassing four mansions for different family members linked by seven courtyards over 9000 sq metres. All of the buildings were fast returning to dust by the time restoration work began in 1999 and it has taken millions of euros to restore it to the buildings to their extravagant best.
Highlights of the complex include the exquisite mirrored reception room (now the hotel restaurant), two hammams (one of which was built specifically for local pregnant women) and the naghb (mask room), which leads to a secret escape tunnel. On-site shops sell hand-loomed items, crafted clothing and carpets and there's a modern coffee shop with a separate entrance onto the street. Admission to only one of the courtyards costs IR50,000 per person for non-residents but a better option is to book for dinner
---
Shivar Siavoshan Tour and Travel Agency Guaranteed lowest price !! For more information contact us on whatsapp: +98933514240
Follow us on Instagram : click here
---
Tags Ameri boutique HotelAmeri House KashanAmeriha Boutique HotelAmeriha Boutique Hotel KashanAmeriha House KashanAmeriha Traditional HotelAmeriha Traditional HouseEco lodgeEcotourismIranIran Cheap HotelIran HistoryIran HotelsIran Online Hoteliran tourismIran Traveliran travel agencyiran travel agentIran Travel blogIran TravellerIran TravelsKashanKashan Boutique HotelKashan Historical HomesKashan Historical HousesKashan Historical PlacesKashan HistoryKashan HotelKashan mapKashan TourKashan Tour OperationKashan Tour operatorKashan Tour PackagesKashan TourismKashan Tourist informationKashan Tourist mapKashan Traditional HotelKashan Traditional HousesKashan TravelKashan Travel AgencyKashan Travel GuideSaraye Ameriha Boutique Hotel in KashanshivarShivar Eco tourShivar SiavoshanShivar TourShivar TourismShivar TravelThe best Hotel in KashanTourTourismTravelTravel to KashanTravel With Shivar
You may also like...